A UNESCO-listed Buddhist statue will soon be open to the pubic after seven years of restoration in Chongqing, southwest of China. The project started in 2008 and recently finalized restoration.
The Qianshou Guanyin (known as "Goddess of Mercy") sculpture was carved during the Southern Song Dynasty. It has 1,007 arms, with one eye carved in each palm. The statue has suffered lots of damage like fracture and weathering in 800 years.
It is said that the sculpture will be reopen to tourists on June 13 this year.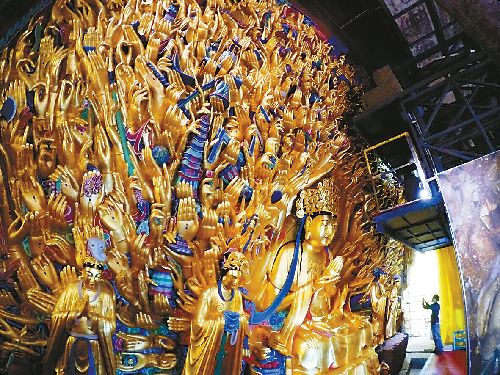 Chongqing, a significant historical and cultural city in China, is greatly influenced by upstream Yangtze River. Many cruises sailing along the Three Gorges attach tourists closer to the great mother river in China.
As the provisional Capital of China for ten years during World War II, the city has many historic war-time buildings or sites. The unique geographical terrain surrounded by steep mountains and spicy cuisine make it one of all-the-year-round tourist resort in southwest China.